!Fediverse: GNU Social federated nodes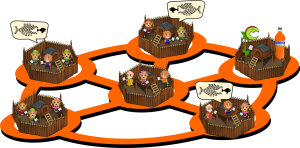 [Versión en Español]
Until recent dates we have a reference to federated GNU Social nodes at fediverse.org.
Updated 04/01/2018: as I published this page in  GNU Social @criztovyl told me that he has created a new service of fediverse.org where we can check in real time federated nodes.
The new service it's at  http://fediverse.joinout.de/
I'll keep old data for a while here.
---
As old domain it's no longer available, I've recovered last update at Wayback Machine at archive.org (2/4/2018) and managed a little to publish most data here.
On that date there was 228 federated nodes identified. 123 are still active at end of Mars 2018, 49 with open registration.
Not sure about every data here, I've only checked wich nodes are active.
At least we can have a reference to know active nodes and to search for accounts and people to follow.